Smoking and the Impact on Oral Health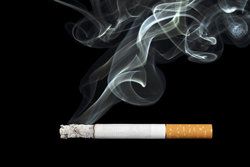 Though most people are aware of the damaging effects smoking has on lung health, many don't realize the risks smoking poses to oral health. Smoking can cause major dental damage and even lead to oral cancer. Fortunately, restorative dentistry treatments can be used repair dental damage caused by smoking. In the meantime, read this overview, from the Troy-based Cosmetic Dentistry Institute, about the dangers of smoking on oral health.
Oral Health Issues Caused By Smoking
Smoking is dangerous to overall health, increasing the risk for cancer, heart disease, and lung disease, all of which can lead to a shortened lifespan. Smoking also poses direct threats to oral health, some of which include:
Tooth discoloration: Smoking discolors the teeth. The nicotine and tar in cigarettes can turn the teeth yellow or yellowish-brown over time.
Increased risk of gum disease: Smokers are at an increased risk of developing gum disease. This is because smoking increases the build-up of plaque and bacteria at the gum line, the direct cause of gum disease. Smoking also makes it harder for the body to heal itself and fight infection, allowing gum disease to proliferate. Another reason smoking puts the mouth at risk of gum disease is the fact that smoking affects soft tissue attachment to the teeth and jawbone, allowing bacteria to get between the teeth and gums.
Chronic bad breath: Smoking causes constant bad breath, which is particularly strong after cigarette smoking.
Salivary gland inflammation: Smoking can inflame the salivary glands, affecting saliva production. Saliva is important to oral health, as it helps reduce acid in the mouth and washes away food particles and plaque.
Dry mouth: Smoking can lead to dry mouth, a condition in which insufficient saliva is produced. Not only is dry mouth uncomfortable, it can lead to tooth erosion and dental damage.
Increased plaque and tartar buildup: Smoking makes plaque stickier, causing increased plaque and tartar buildup on the teeth.
Jawbone loss: The jawbone can lose density and begin to recede from the tooth roots with habitual smoking.
Tooth decay: Since smoking increases the amount of plaque and tartar in the mouth, it also puts the teeth at increased risk of decay.
Tooth loss: Tooth loss can result from smoking due to jawbone recession, tooth decay, or severe gum disease.
Leukoplakia: Leukoplakia is a condition in which white patches form within the mouth.
Oral cancer: Smoking and any form of tobacco use increases the risk for oral cancer.
Slow or difficult healing: Smoking reduces the amount of oxygen in the blood stream, which greatly impacts the body's ability to heal. Smoking can make it difficult for the body to heal after surgery, oral or bodily.
Schedule a Consultation
Keep your smile and body healthy. Take the steps to stop smoking today and seek treatment for any dental damage you may have experienced from cigarette use. To find out more about restorative or general dentistry treatments, we invite you to schedule a consultation with our doctors today!
Related to This