Crooked teeth can affect the health and beauty of your smile. In the past, a dentist's main option for treating malocclusion was braces.
Today, tooth misalignment can be treated with Invisalign®, an invisible, comfortable alternative to traditional orthodontics.
Find out how the Cosmetic Dentistry Institute in Troy, MI, can straighten your teeth.
Invisalign Treatment
An Overview
How Invisalign Works
An Invisible Alternative to Braces
Invisalign treatment is simple and effective. Here is a basic overview of how the procedure works and why patients prefer it to the braces of the past.
Aligners Instead of Wires
Rather than the brackets and wires of braces, Invisalign uses clear aligners made from durable plastic. These aligners apply controlled tension to shift teeth into a more ideal position.
Trays Worn Most of the Day
Patients wear aligners all day except for when they eat, drink beverages other than cold water, and when they brush and floss. That means the trays are in more than 20 hours a day.
New Aligner Every Two Weeks
After wearing an aligner for two weeks, patients discard that tray and switch to the next one in the sequence. This is repeated over the course of several months until treatment is over.
The Benefits of Invisalign
Why People Want Invisible Orthodontics
There are many benefits to Invisalign treatment. Just why are more and more patients asking about Invisalign for their orthodontic care needs?
Invisalign Aligners Are Discreet
The clear aligners are difficult to notice, even when people are up close. That makes Invisalign ideal for those of us who want an inconspicuous orthodontic treatment.
Aligner Trays Are Safe
The clear aligners are sturdy and will not cut or poke at the insides of your mouth. They are made from a smooth, BPA-free plastic molded to fit onto your teeth.
Trays Are Easy to Remove
Invisalign trays are removable. Patients can still enjoy their favorite foods, and won't struggle to properly brush and floss their teeth during the treatment process.
Caring for Trays Is Simple
Cleaning Invisalign aligners is simple. Patients can simply brush the aligners clean with a soft-bristled toothbrush to prevent cavities,
gum disease
, and bad breath.
Aligners Are More Comfortable Than Braces
The brackets and wires of braces can scrape and irritate the insides of the lips and cheeks. Invisalign trays are smooth, and are consequently much more comfortable to wear.
Speak with a Skilled Dentist
Learn More About Invisalign
The Cosmetic Dentistry Institute is committed to helping the people of Troy, MI, have healthy, beautiful smiles. Our focus is always on your well-being.
Dr. Craig Goldin holds Accredited Fellow status in the American Academy of Cosmetic Dentistry (AACD) and is a Diplomate with the International Congress of Oral Implantologists. Dr. Marcy Goldin is a Clinical Instructor at the University of Michigan School of Dentistry, educating the next generation of dental practitioners. Dr. David Whalen graduated from top five percent of his class at the University of Michigan and completed a residency in Hospital Dentistry in San Francisco.
The Cosmetic Dentistry Institute looks forward to hearing from you. For more information about high-quality advanced dentistry, contact our skilled team of dentists online or at:
Dentists Who Puts Patients First
Enhancing the Smiles of Troy, MI
My son needed major dental work and as a mom I knew after meeting with Dr. Goldin and Robbie and the rest of the staff that my son was in the best hands possible. Eight hours of surgery and I had not one worry and the end result was absolute perfection. Im not sure what is more beautiful: my sons teeth or the entire staff responsible. I've never met a more loving and caring group of people. Thank you Cosmetic Dentistry... You truly are the best!
View On Healthgrades
Best cosmetic dentists in town! Hands down! No matter the situation Dr. Goldin is hands down got a great solution and with a great look. He has done so much work for me and some for my wife. We both care about him and have 100% trust in everything he does! We are patients for life!!!
View On Facebook
Good Candidates for Invisalign
Ideal Invisible Orthodontics Patients
Invisalign is a great option for so many people looking for an alternative to braces. Here are signs that you are a good candidate for invisible orthodontic treatment.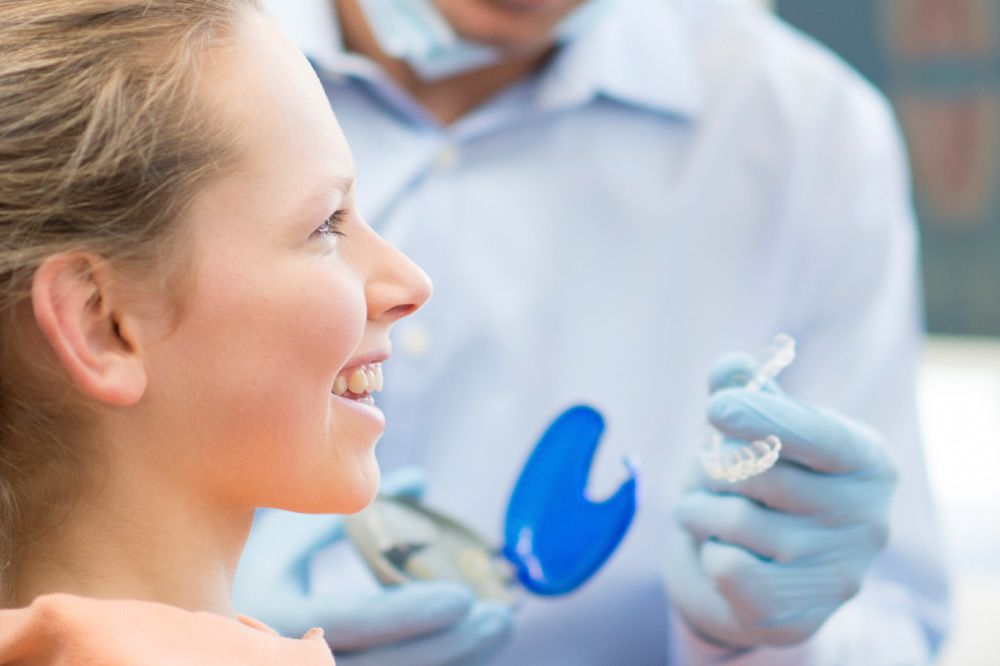 You're a Teen or Adult
Invisalign is an excellent option for adults and older teenagers. The removable clear aligners won't interrupt your daily routine, whether it's work, school, or social gatherings.
You Have Crooked Teeth
Invisalign treatment is great for people who have teeth that are crooked. Misalignment of the dental arch or the jaw position can be treated using other orthodontic procedures.
You're in Good Health
Apart from tooth misalignment, patients should be in otherwise good dental health. If you suffer from other dental problems, those may be treated before you undergo Invisalign.
The Invisalign Treatment Process
A Patient Timeline
Overall treatment time for Invisalign can range from several months to a year depending on the needs of the patient. We'll provide a personal treatment timeline during your initial consultation at our Troy, MI, dental practice. This general timeline offers patients an idea of what the treatment process will be like.
Initial Consultation
Invisalign is able to treat the same kinds of malocclusion and misalignment as traditional braces.
Dentists Who Are Here for You
Improving Dental Health Throughout Troy, MI
Dr. Goldin and his staff are very friendly and knowledgeable. I felt at ease at the appointment and well educated about the best plan to keep my teeth as healthy as possible going forward.
View On Facebook
They are truly the best! I had significant work done and did not experience one minute of pain at any time - not one minute. And absolutely no issues with any of the dental work (which included multiple crowns and an implant). Dr. Goldin is exceptional and is an artist when it comes to crafting the perfect smile for you. His staff if friendly, welcoming and always put you completely at ease. I highly recommend this team!
View On Vitals