Despite feeling self-conscious, many patients avoid straightening their smile because they do not want to wear traditional braces.
At the Cosmetic Dentistry Institute, we provide Invisalign®, a nearly invisible orthodontic treatment that allows for faster, more comfortable smile alignment.
Why should you choose Invisalign?
Patient-Friendly Orthodontics
The clear plastic trays used for Invisalign are virtually invisible to others, allowing you to feel less self-conscious throughout treatment.
Invisalign trays are modeled to fit your bite and are made from smooth, BPA-free plastic that is less abrasive to your gums and lips.
You can remove your Invisalign trays while eating and brushing your teeth for an unrestricted diet and improved hygiene.
How does the Invisalign process differ from traditional braces?
Is Invisalign an effective orthodontic treatment?
Millions of Success Stories
It can most likely help you, too.
Invisalign Can Treat:
An underbite is characterized by lower teeth that stick out farther than the upper teeth.
An overbite occurs when the upper arch of teeth protrudes too far over the lower teeth.
Horizontal misalignment between the upper and lower teeth is known as a crossbite.
If your front upper and lower teeth do not touch together, it is referred to as an open bite.
Sometimes, noticeable spaces, or gaps, remain between the teeth.
Overcrowding occurs when all of your teeth do not fit properly within your bite.
Benefit Your Oral and Overall Health
While the goal of Invisalign is to help you achieve a straighter smile, it does so much more.
Following your treatment, you may find that it is easier to brush and floss your teeth. By treating malocclusion, Invisalign can also reduce the symptoms of a misaligned bite, including headaches and excessive wear on your teeth. Best of all, you can feel more confident in your smile and yourself when talking or when smiling in photos.
Still, not every patient is a good candidate for Invisalign...
Personal Factors You Should Consider:

Treatment Priorities
If discretion is especially important to you, Invisalign may be the best orthodontic option. This is one of the reasons Invisalign is so popular among teens and adults.

Self-Discipline
It is important that you are committed to wearing your aligners 20 to 22 hours a day. Otherwise, your treatment may need to be extended to achieve the results you desire.
However, the decision may come down to what is best for your smile...
The Extent of Misalignment Is Most Important
While Invisalign can correct a variety of issues, it is not usually recommended for patients with severe malocclusion such as rotated teeth. In these cases, braces may be the better choice. During your consultation, Dr. Craig Goldin will conduct a thorough evaluation to analyze your bite and recommend the most beneficial orthodontic treatment for your needs.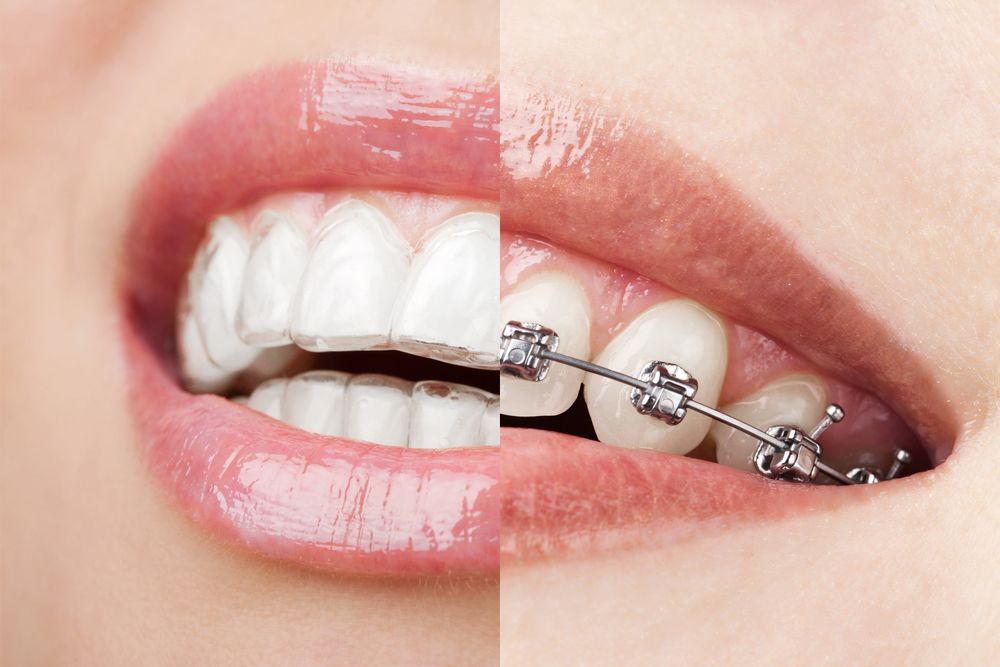 Trays are custom made to fit your smile for the most effective treatment...
Advanced Technology Is Used for Invisalign Treatment
Based on your doctor's evaluation and recommendations, the software used for Invisalign can plan the exact movements that are necessary to shift your smile into proper alignment. This software is regularly updated to provide the most accurate and reliable treatment planning. To shift your teeth into the desired positions, custom clear aligners are created to fit your bite perfectly and apply the necessary forces on each tooth.
Dr. Goldin is an experienced Invisalign® provider who has actually performed cases at the request of Align Technology Inc., the manufacturer of Invisalign®.
Invisalign May Cost The Same As Traditional Braces
Invisalign® - Troy and Detroit
Want to see your new smile?
How Long Do You Need to Wear Invisalign?
Many patients wonder how long the Invisalign® process takes. There is no uniform answer – it primarily depends on the position of a patient's teeth at the start of treatment. Unlike traditional braces, Invisalign® does not require frequent tightening, making the process a perfect fit for your busy life.
For most adult Invisalign® users, the entire process from initial consultation to completion takes approximately one year. For patients who only need minor adjustments, the projected timeline may be considerably less.
Invisalign Offers Transformative Results
This patient's smile was affected by uneven teeth and an overbite.
Invisalign was used to create a noticeably straighter smile.
You will first attend a consultation where the doctor will perform an evaluation to determine whether you are a candidate for Invisalign or if another treatment is a better solution for you.
A personalized treatment plan will be developed to straighten your smile over the course of several months with specially designed trays.
Your aligners will then be fabricated at a specialized lab and should be ready in just a few weeks. These trays will be made from BPA-free plastic and need to be worn 20 to 22 hours per day.
Throughout the course of treatment, you will need to visit our office every four to six weeks for a check-up. During these appointments, your dentist will monitor your progress to ensure you are on the right track.
Once your teeth have reached their final position, you can stop wearing your Invisalign trays. You should never stop wearing your aligners without your dentist's explicit permission.
Cosmetic Dentistry Institute
Our team strives to provide an unparalleled patient experience by focusing on:
Award-winning cosmetic treatments
A spa-like environment
Patient-oriented care
Using the latest technology
To schedule your consultation, contact us online or call us at (248) 519-1919.