Full Mouth Reconstruction Recovery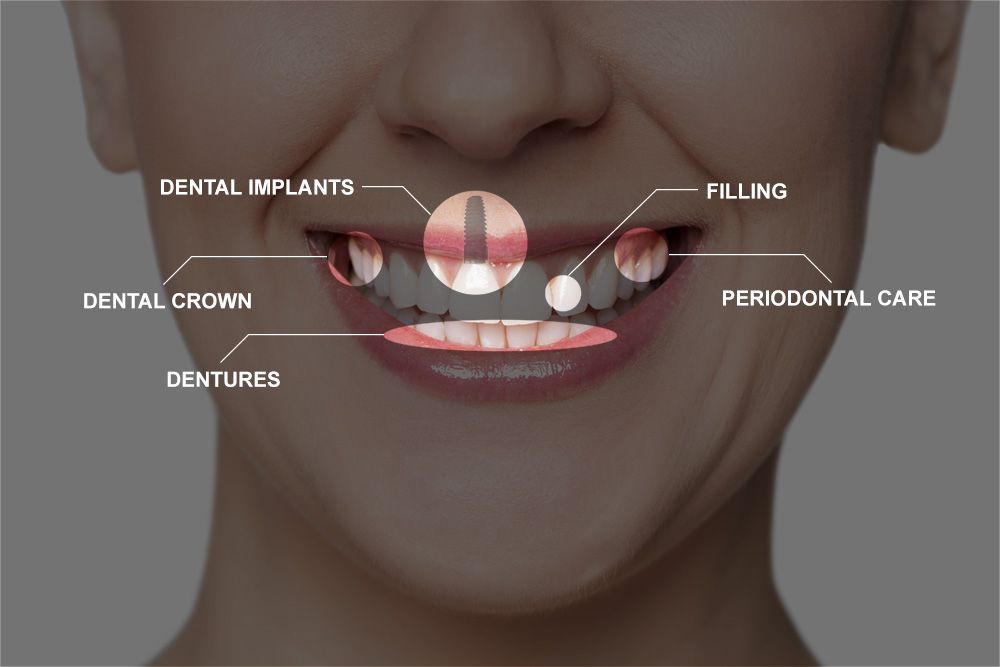 Do you have chipped or cracked teeth? Gaps in your smile? Bleeding gums? Tooth decay? Patients who have multiple dental issues can restore their smile with full mouth restoration at our Troy, MI dental practice.
This treatment plan combines two or more restorative procedures for improved oral health and a comprehensive result. Here, we discuss full mouth reconstruction recovery, and explain what patients can expect following their procedure.
Each Plan Is Unique
Full mouth reconstruction is tailored to the needs of the individual patient. Therefore, no two treatment plans will be the same. As a result, recovery timelines can vary significantly, as well as what is required during the healing period.
In the sections below, we will explore some of the most common treatments performed for full mouth reconstruction so patients can be well-informed.
Recovery after Fillings, Crowns, and Bridges
Patients with decayed or damaged teeth may require fillings, crowns, or bridges to restore the smile. Following this type of procedure, Patients can expect slight tenderness as the gum tissue becomes accustomed to the new restorations.
This can be managed with over-the-counter pain relievers and warm saltwater rinses. Typically, patients are comfortable within a day or two.
Recovery after Dentures
After getting dentures, it can take a few weeks for your gum tissue and underlying bone ridge to become accustomed to your new prosthesis. In most cases, occasional adjustments will be required to maintain a proper fit as your tissues adjust.
If extractions were performed before your denture placement, full recovery could take a couple of months. To alleviate any discomfort, over-the-counter pain medicine can be taken during this time.
Recovery after Dental Implants
Dental implants require an oral surgery procedure. Therefore, patients who undergo this treatment will need to follow their post-operative guidelines closely for a successful recovery.
For example, keep strenuous activity to a minimum, apply cold compresses to mitigate swelling and inflammation, and take all prescription medications exactly as directed.
In most cases, patients should take at least one to two days off of work, perhaps longer if they are having multiple implants placed. The entire healing process takes approximately three to six months. During this time, the bone tissue will fuse to the implants, this is known as osseointegration.
Recovery after Periodontal Care
If gum disease is present, periodontal care will be necessary before other restorative treatments can be performed. Fortunately, mild cases of gum disease can be addressed with scaling and root planing, a non-surgical procedure. Therefore, recovery time is nearly immediate.
More advanced cases of gum disease may require surgery. In these cases, a few months of healing is typically required.
General Recommendations for a Successful Recovery
Once your personalized plan is designed, your doctor will provide you with a detailed list of post-treatment guidelines. It is important to follow these precisely. Doing so will help you safeguard against discomfort and pain and enjoy a swift, successful recovery.
A few general recommendations include:
Plan to take an appropriate amount of time off work.
Don't try to do too much too soon.
Take any medications as directed by your doctor.
Use a cold compress or ice pack to reduce swelling.
Call your doctor immediately if you think something is not right.
Contact Us to Learn More
Knowing what to anticipate before any procedure can help patients be prepared and alleviate fears of the unknown. If you are considering full mouth reconstruction, contact our office for a consultation by calling (248) 519-1919.
Related to This