Full Mouth Reconstruction with Dental Implants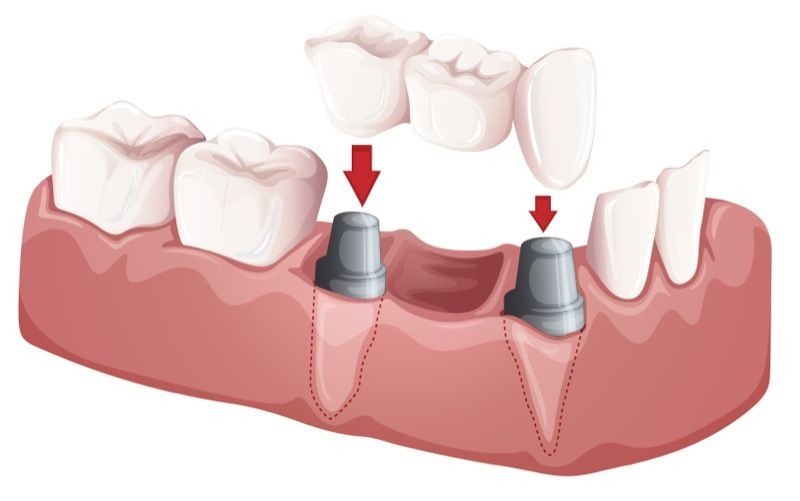 A full mouth reconstruction refers to a combination of restorative dentistry procedures used to treat serious dental health problems. This combination of procedures helps address issues with tooth loss, tooth damage, periodontal health, and so forth. Dental implants can be added into a full mouth reconstruction at our Troy, MI practice with relative ease. They are an effective manner of addressing different degrees of tooth loss.
Dr. Craig Goldin and Dr. Marcy Greenbert Goldin would like to consider the basics of dental implants and how they figure into a full mouth reconstruction. The team at the Cosmetic Dentistry Institute can address further questions and concerns about dental implants and full mouth reconstructions during your visit to the practice.
When Are Dental Implants a Good Option?
Dental implants are a good option in a full mouth reconstruction when a patient is missing many teeth or all of their teeth. These artificial tooth roots will be able to securely hold a crown, a bridge, or a denture with the same level of stability as natural tooth roots.
Ideal Candidates for Dental Implants
Good candidates for dental implants are people who are missing teeth. They should have sufficient bone density and gum density in place in order to support the dental implant or implants. A lack of sufficient bone density means patients will either need an alternative to dental implants or they will have to undergo bone grafting surgery.
It's important that patients be at least 18 years old (ideally older) to ensure their jawbone has fully developed and matured. It is also important for patients to be in good general health so an oral surgery does not pose serious risks to wellness.
During a consultation at our Troy dental care center, we can go over the risks and benefits of implant dentistry and determine if it's a good option for you and your needs.
The Dental Implant Process
During implant dentistry, an oral surgeon will anchor the dental implants into place. Over the course of the next few months, the implants will fuse with the jawbone in a process known as osseointegration. Only once osseointegration has taken place can the dental implants properly support an appliance.
The crown or denture will be custom crafted for the patient for optimal bite strength, appearance, and function.
How Additional Restorative Procedures Will Be Incorporated
Other restorative procedures will be added into a full mouth reconstruction when sensible. For instance, treating gum disease and root canal infections will generally come prior to placing dental implants. These procedures ensure healthy gums and lower risk of infection in the mouth, which increases success rates for dental implant treatment.
We can discuss the full treatment plan with you in greater detail during the consultation process.
The Results of a Full Mouth Reconstruction
The results of a full mouth reconstruction can be extremely dramatic. Patients will experience improved dental health and renewed ability to bite and chew. Dental implants will also help prevent further bone loss and gum recession since the tissues of the mouth have structures to build around and support.
Patients who get dental implants are extremely satisfied with the results, both from an aesthetic standpoint and in terms of overall dental wellness.
Learn More About Improving Your Dental Health
For more information about dental implants and why they may be the ideal option for you and your dental health needs, be sure to contact a skilled team of cosmetic and restorative dentists. You can reach the Cosmetic Dentistry Institute in Troy by phone at (248) 270-8819.
Related to This