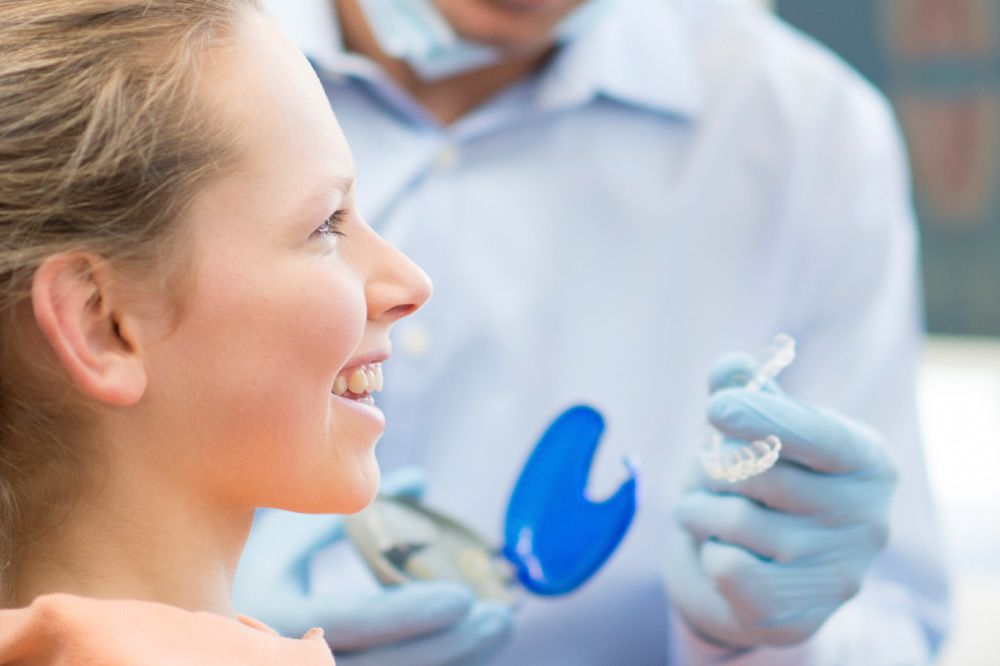 In the past, traditional braces were the only common option to straighten teeth. Today, there's Invisalign®, an invisible alternative to orthodontics. There are no brackets or wires with Invisalign, which has made it extremely popular among teens and adults in the Troy, Birmingham, and Bloomfield, MI area.
Dr. Craig Goldin and Dr. Marcy Goldin would like to go over the basics of Invisalign and why it may be the best option for your teenage son or daughter. There are so many benefits to consider when it comes to this simple, discreet orthodontic option.
How Invisalign Works
Invisalign is an invisible orthodontics system that uses clear plastic aligner trays to straighten the teeth. These trays are worn at all times except for when a person is eating, drinking beverages beside cold water, and cleaning their teeth. Every two weeks, patients swap out their current Invisalign aligner tray for a new one, which helps with the gradual shift in tooth position.
Over the course of several months, patient's teeth will be dramatically shifted, leading to better overall dental alignment and a much more appealing smile.
Can Teens Undergo Invisalign?
Yes.
Invisalign is perfect for teenagers and adults. In fact, more and more teens are picking Invisalign for their orthodontic needs given its numerous advantages to patients.
The Benefits of Invisalign for Teenagers
Some of the key benefits of Invisalign for teenage patients include:
Aligners Are Practically Unnoticeable - When the clear plastic aligners are on your teeth, they are hard to notice. Even when people are up close, they may not realize you're undergoing Invisalign treatment.
No Major Interruption in Your Diet or Lifestyle - You can still eat your favorite foots while undergoing Invisalign treatment. There are no dietary restrictions; just get the aligners off before you enjoy a meal or snack.
Invisalign Trays Are Easy to Remove - Invisalign trays can be taken off with general ease, which is perfect for senior portraits, high school sports, and so forth.
Invisalign Treatment Is Straightforward - Invisalign is so simple and straightforward. Patients just need to swap out aligners every two weeks as instructed.
Good Candidates for Invisalign
Good candles for Invisalign are people with crooked teeth, minor tooth gaps, and overall poor dental alignment. The procedure is best for people with healthy dental arches but poor tooth placement along the dental arch. During a consultation, we can go over your candidacy for Invisalign in greater detail.
How Long Will Invisalign Treatment Take?
Invisalign treatment will typically take as long as treatment with traditional braces. That means about nine months to two years. It can vary depending on the nature of a patient's dental issues.
While patients undergoing Invisalign will wear their trays for as long as they would braces, they experience greater freedom and comfort thanks to the nature of the Invisalign trays and the way treatment is performed.
Is Invisalign Right for Me?
The best way to find out if Invisalign is right for you is to visit our practice for a consultation. We can go over all of your orthodontic treatment options in greater detail, answer your questions, and help you get the dental care help you need.
Learn More About Invisalign for Teens
If you would like to learn more about Invisalign and how it can help you have a straighter smile, be sure to contact our skilled team of cosmetic and restorative dentists. You can reach the Cosmetic Dentistry Institute in Troy by phone at (248) 519-1919.
Related to This