Tooth loss affects millions of Americans. While traditional bridges and dentures are effective, dental implants are often a superior option.
The titanium implants anchor restorations to the jaw, acting as artificial tooth roots. They provide excellent stability and functionality.
Dr. Craig Goldin places and restores implants for patients throughout Troy, Birmingham, and Bloomfield, MI, to create stunning smiles.
The Benefits of Dental Implants:
Why You Should Consider Implant Dentistry
Reduced Bone Loss
When natural teeth are missing, your jaw loses bone tissue. Dental implants are the only restorative dentistry option that can prevent this side-effect of tooth loss.
Enhanced Self-Confidence
Patients with implant appliances don't just have better dental health. When you can chew and speak without worrying that your restorations will shift for slip, you can also experience greater confidence.
The Dental Implant Difference
Results That Look Like Your Natural Teeth
Types of Dental Implants:
Your Implant Dentistry Options
There are a variety of implant options available to meet your needs. Whether you are missing one tooth, a few teeth, or all of your teeth,
our dentists
can develop a treatment plan just for you. We can also coordinate treatment if a tooth needs to be extracted and replaced.
Traditional Dental Implants
Traditional dental implants are titanium posts surgically embedded into the jawbone. After a period of osseointegration (fusion of the implant to the bone tissue), the implants give your restorations stability that is virtually equal to that of natural teeth.
Mini Dental Implants
Mini dental implants have a smaller diameter than traditional implants. Mini dental implants can benefit patients who have suffered some bone atrophy, but want to avoid undergoing a bone graft in order to receive traditional implants.
ESTEEM All-on-X dental implants are used to support a Prettau® Zirconia Bridge, a premium device that replaces an entire dental arch on the upper or lower jaw. As few as five of these special implants can support this restoration, which provides superior aesthetics, durability, and functionality.
Want to Learn More About Dental Implants?
Speak with Dentists Who Put You First
Whether you are missing one tooth or all of your teeth, the team at the Cosmetic Dentistry Institute can develop a treatment plan for you. Our dentists have years of experience creating custom dental care solutions for patients throughout Birmingham and Bloomfield.
Dr. Craig Goldin is the only Accredited Fellow of the American Academy of Cosmetic Dentistry in Eastern Michigan, and part of a select group of dentists who hold this honor worldwide. Dr. Marcy Greenbert Goldin serves as a Clinical Instructor at the University of Michigan School of Dentistry, where she mentors aspiring dental health professionals. Dr. David Whalen honed his skills under oral surgeons, periodontists, and prosthodontists during a residency in Hospital Dentistry in San Francisco.
If you live in Troy, Birmingham, or Bloomfield, MI, and want to learn more about implant dentistry, contact our skilled team of dentists online or call:
"I Walked Out After Two Visits a New Man."
Giving Troy, MI, a Reason to Smile
This is by far the absolute best dentistry experience that I have ever had! I believe I was seen by Dr. Wahlen. I went in to get two teeth extracted in which everyone knows getting root canals can be one of the most scariest and stressful things. The service was quick. The teeth were out and I was pain-free before I could even panic lol the staff was very kind & caring I would highly recommend this place.
View On Google
The staff is incredibly detailed, professional, and caring. Shall we talk about Dr. Goldin? He's an artist, a magician, and in my case a miracle worker. I walked into his office petrified of the dentist, horribly self conscious of my smile, and mentally a mess from previous dental work done elsewhere. I walked out after two sleepy visits a new man. I've smiled more the last year than I have in the past ten and I owe that all to Dr Goldin and his dream team! Thank you!

View On Google
Implant Restoration Options
Dental implants can be used to support all kinds of restorations and appliances, depending on how many teeth are missing.
Dental Crowns
If you're missing a single tooth, an implant-supported crown can replace the tooth from top to bottom. This solution can be more conservative and beneficial to your oral health than traditional restorations.
Dental Bridges
Implant-supported bridges can benefit those missing two or more consecutive teeth. Traditional bridges require healthy adjacent teeth to be crowned in order to provide support. Implant bridges are self-sufficient.
Dentures
Traditional dentures can easily shift out of place and require frequent adjustment for changes in the jaw over time. Implant-supported dentures are far more stable and require far fewer adjustments.
Full Arch Restorations
Comparing Options
Traditional dentures and dentures supported by implants can give you a fully functioning smile. Implant-supported dentures have many benefits, but not all patients are eligible for implants. During your consultation at our Troy, MI, dental office, we can determine which full arch restoration is more ideal for your needs.
How Implants Can Transform a Smile
Look at These Before and After Photos
Have Questions about Dental Implants?
We Have the Answers You Need
Dental implants allow people suffering from tooth loss to smile with renewed confidence. Thanks to the use of titanium and other advanced materials, we can give you a restored smile that looks, feels, and functions just like your natural teeth. If you're missing a tooth or multiple teeth, implants may be just what you need. To learn more about implant dentistry, contact our practice online. You can also schedule a visit to the Cosmetic Dentistry Institute by phone.
5 Star Dental Treatment
Giving Our Patients Many Reasons to Smile
I had the best experience shot out to Dr Gold but a special thank you to all the staff they are great but Tammy and Sophie you two really made me feel comfortable even though I've had bad experiences at other Dentistry offices. I can not thank you enough. Now I can really smile for my graduation photos mine and my daughter's. GOD Bless you both.
View On Google
I have been going to the Cosmetic Dentistry Institute for 30+ years. And have only had fantastic experiences. The staff is SO welcoming and strive to make every patient feel comfortable and welcomed...I have recommended many friends and colleagues to The Cosmetic Dentistry Institute, and all have followed up with glowing reviews.
View On Google
The Dental Implants Process:
A Timeline for the Procedure
The dental implant procedure can vary depending on the type of implants used. Below is a general timeline for patients receiving traditional implants. The estimated treatment time spans several months:
Dental implants can be used to support all kinds of restorations and appliances depending on how many teeth are missing.
Have Dental Anxiety?
Our sedation options can help you get the care you need
We understand that visiting a dentist can be a major source of fear and anxiety for some patients, causing them to avoid much-needed treatment. Some patients simply need a higher level of comfort care in order to sit through their dental treatments. Our Troy practice offers three forms of sedation dentistry depending on your needs to help you remain relaxed during your dental implant treatment.
Nitrous Oxide
Also known as laughing gas, this form of sedation is inhaled. It works quickly to induce a state of conscious relaxation, and it wears off quickly once it is stopped. Patients are able to drive themselves home after treatment.
Oral Conscious
Your dentist will prescribe you a medication to take before your treatment to help you remain calm and relaxed. You will need someone to drive you to and from your appointment, as it takes several hours for the medication to wear off.
IV Sedation
Dr. Goldin is certified in IV sedation. You will be given medication via an IV. While you will remain conscious, you will be in a deeply relaxed state. As with oral conscious sedation, you will need a responsible adult to drive you home after treatment.
Invest in Your Oral Health
Call our Troy dentistry practice today
Tooth loss is common, affecting millions of Americans. It can lead to further oral health complications if not treated. Dental implants are an investment in your oral health that can provide tremendous benefits, including jawbone stimulation and restored oral function.
Whether it is a single missing tooth, multiple teeth, or you are missing all of your natural teeth, dental implants paired with a custom restoration can allow you to eat the foods you love and speak with confidence once again.
Ready to take the next step? Start your journey to a restored smile by contacting us online or calling our Troy dental practice today.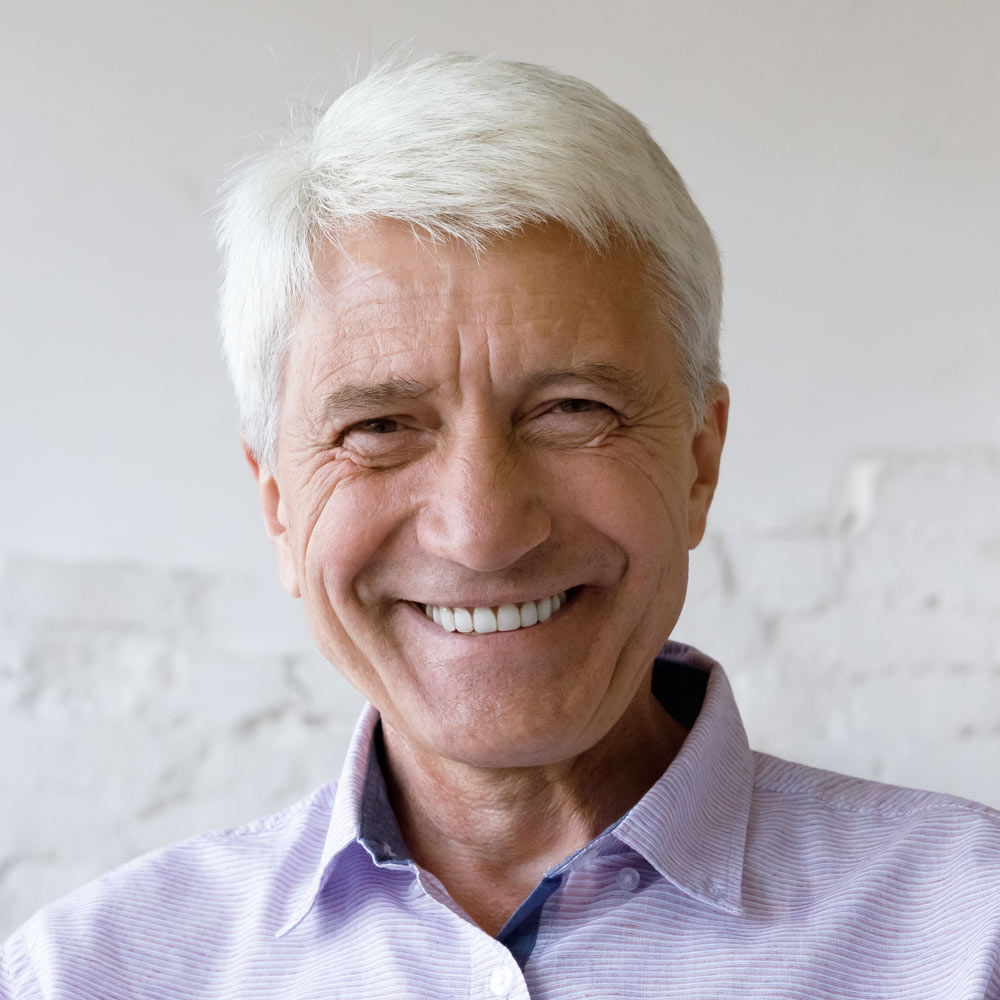 Dental Implant Patients Share Their Story
Dental Care That Makes a Positive Difference
Unfortunately, most dental insurance plans do not cover the cost of dental implants and placement. However, your insurance may cover the cost of your restoration. We will work with your insurance provider to reduce your out-of-pocket expenses.
Our Troy dental practice also accepts financing through CareCredit® and Lending Club® to help break the cost of your dental implant treatment into affordable monthly payments so that you can enjoy the amazing benefits of a restored smile. Contact us to learn more about financing options.
Dental Implant Aftercare
Making the Results and Benefits Last
Good Oral Hygiene
Use a soft-bristled toothbrush, proximal brush, and thick floss designed for implants and bridgework to keep your remaining teeth and dental implants clean. You can also wipe your gums with a clean hand towel.
Cleaning the Implant Restorations
In addition to brushing and flossing, follow all care instructions to keep your bridge or denture clean. This includes gently scrubbing away food particles and soaking the implant restoration overnight while you are asleep.
Protection and Prevention
Wear mouth or face protection when playing sports or other applicable activities to prevent injuries. Visit our dental office every six months for regular checkups and cleanings.
"Kind and Hard-Working People!"
We Are Here for the People of Michigan
Very nice, professional and friendly staff. Thank you so much for providing me with an excellent level of care.
View On Google
Dr. Whalen & his assistant Kat were absolutely amazing with my son today! Kind and hard working people! What a great team!!
View on Google